SHAZSTORE
PHOENIX A2 | ULTRA QUIET DEEP TISSUE MUSCLE MASSAGE GUN
Regular price
$139.99
Sale price
$229.99
Unit price
per
The Phoenix A2 is cordless state-of-the-art vibration massage device that relieves muscle stiffness and soreness, increases circulation and range of motion, and improves the overall health of the body's soft tissue.
Save time and money knowing you'll never need to schedule an expensive massage or chiropractic appointment again.
30-times more effectively than a regular massage and 7-times more effective than a foam roller, conveniently treat your body anytime, anywhere with the breakthrough science of Percussive Therapy.
Featuring our patented Quiet Glide™ Technology, premium rechargeable Lithium-ion battery, three-speed settings, and Pressure Sensor Technology, the Phoenix A2 delivers a perfect combination of power, performance, and variability.
Its brushless high-torque 60w motor is able to deliver 1800-3400 strokes per minute depending on which of the speeds you select, accelerating and enhancing the repair of the muscle fiber by providing rapid bursts of pressure in concentrated, short-duration pulses deep into the tissues of the body. 
The Phoenix A2 comes with 4 interchangeable head attachments, each one specifically designed to target and promote flexibility and blood flow in a different part of the body.
How Does it work?
The Phoenix A2 works by sending pulsating strokes deep into muscle-tissue.
These concentrated pulses into the sore muscle tissue effectively desensitizes the surrounding area by shocking the muscle fiber until the target area is penetrated.This way, we are able to target specific muscle soreness without noticing a lot of the pain that comes with it.
This treatment promotes blood flow and flexibility while decreasing lactic acid build-up, enhancing the recovery of muscles and tissues and subsequently improving function and range of motion.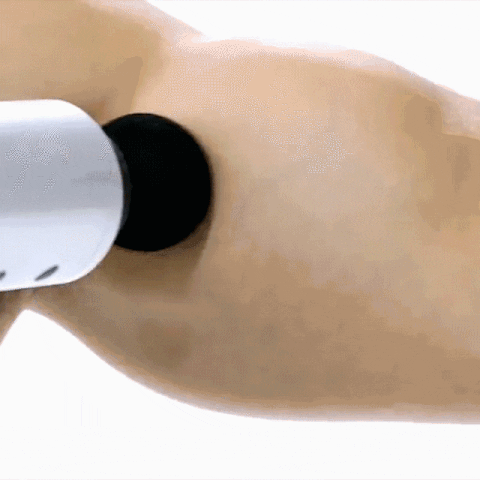 < Features >
• Helps relieve muscle pain, stiffness, and soreness
• Ultra-quiet working sound level
• Increases range of motion
• Increases circulation and blood flow
• Lightweight, easy-to-use for self-myofascial release
Benefits
Effective - Much more effective than your traditional foam roller. Gets in deeper, more accurate and pinpoints those trouble areas instead of just rolling them over and going through the motions.
Relieves muscle tightness - Breaks up the tightness and delivers more blood flow all throughout the muscle. Giving your muscles better oxygen and relieving the tightness and constant aches.
Fits In Your Bag - Without taking up a lot of space. Making it easy to bring with you to the gym so you can use it before and after an intense workout.Also comes in its own EVA carrying case
What's Included?
1 x Phoenix A2
1 x 24v Lithium-ion Battery (built-in)
1 x Charging Cord
1 x EVA Travel Case
4 x Attachments
1 x User-manual
We don't want to persuade our customers of the benefits of the Phoenix A2, we want to convince them.
For this reason, we are of the opinion that everyone should be able to try and test out the Phoenix A2 Deep Tissue Massage Gun for themselves.
Therefore we offer you a 30-day money-back guarantee within which you can try out the Phoenix A2 in your life.
If you don't like it, simply send it back to us and we will refund the full purchase price.
---